As the popularity of podcasts continues to soar, podcasters are constantly looking for new ways to grow their audiences and attract new listeners. This is where Goodpods.com comes in.
Goodpods is a revolutionary new platform that is changing the way podcasters promote and share their shows. With Goodpods, podcasters can connect with other podcasters, influencers, and fans, and share their shows with a wider audience. Goodpods also provides listeners with a unique way to discover new podcasts and connect with other like-minded people. Whether you're a seasoned podcaster or just starting out, Goodpods offers a wealth of tools and resources to help you grow your audience and take your podcast to the next level.
And if that weren't enough, check out these verified Goodpods listeners:
In this article, we'll take a closer look at how Goodpods is transforming the podcasting landscape and how you can use it to build your brand and reach new listeners.
How Goodpods is changing podcast discovery
Goodpods is changing the way people discover podcasts.
The platform is designed to be social, so users can connect with other users and discover new podcasts through their recommendations. Goodpods allows users to create lists of their favourite podcasts and share them with their followers.
This means that if someone follows you on Goodpods, they'll be able to see your recommendations and discover new podcasts that they might not have found otherwise.
In their own words, this is how Goodpods is changing the landscape for podcasters:
The problem with traditional podcast discovery
One of the biggest challenges facing podcasters is discovery and attracting new listeners to their audience.
Traditional podcast discovery methods, such as browsing through iTunes or searching on Google, can be hit or miss. Even if you have a great podcast, it can be challenging to get it in front of the right people.
A lot of the time, podcasters spend hours promoting their shows in Facebook groups or on social media feeds; or feel the need to spend $$$, sometimes even $$$$ on advertising their podcast – sometimes with more success than other times.
By utilising a platform like Goodpods.com, you've got an extra tool in your arsenal to help grow your podcast audience.
Note that I said an 'extra tool.' Because I don't believe in putting all of your eggs in one basket when it comes to promoting your podcast. I also don't advocate spreading yourself so thin that you're burning out and losing efficiency, but you do need to be strategic about how and which tools you use to grow your podcast audience.
How Goodpods benefits podcasters
Goodpods offers a wealth of benefits to indie podcasters.
First and foremost, it's a great way to connect with other podcasters and influencers.
By connecting with other users on the platform, you can grow your audience and attract new listeners.
Goodpods also provides a great way to get your podcast in front of people who might not have discovered it otherwise. By creating lists and sharing your recommendations, you can attract new listeners and grow your audience.
The key features of Goodpods.com
Goodpods, at its core, is a podcast app where you can discover and listen to podcasts. What's quite cool about it is that, unlike a podcast directory, podcasters don't need to submit their podcast to be featured on Goodpods, it's automatically there.
Dubbed the Goodreads of the podcasting world, discoverability is the name of the game for Goodpods.
But, in my opinion, where Goodpods comes into its own is the ability to create lists that feature your own podcast at the top. What does this mean? Well, it means that whenever someone lands on your list of recommended podcasts, they'll automatically also be shown your podcast and can listen and subscribe to it there and then.
Lists are a great way to curate your favourite podcasts and share them with your followers.
You can create lists based on a specific topic, such as "The Best True Crime Podcasts," or you can create more general lists like "My Favorite Podcasts of All Time."
Goodpods also allows users to follow other users and see their recommendations. This is a great way to discover new podcasts and connect with other like-minded people.
What does Goodpods cost?
This is another thing about Goodpods; it's free!
So if you're adding your podcast at the top of your podcast lists then this is essentially free advertising for your podcast.
And getting started is easy. Simply go to Goodpods.com to access on a desktop, or search for Goodpods in the Apple or Android app stores.
How to create a "The best podcasts for…" list on Goodpods.com
Creating a "The Best Podcasts for…" list on Goodpods is easy. Here, I'll walk you through the process.
Log into your account and click on 'Profile.'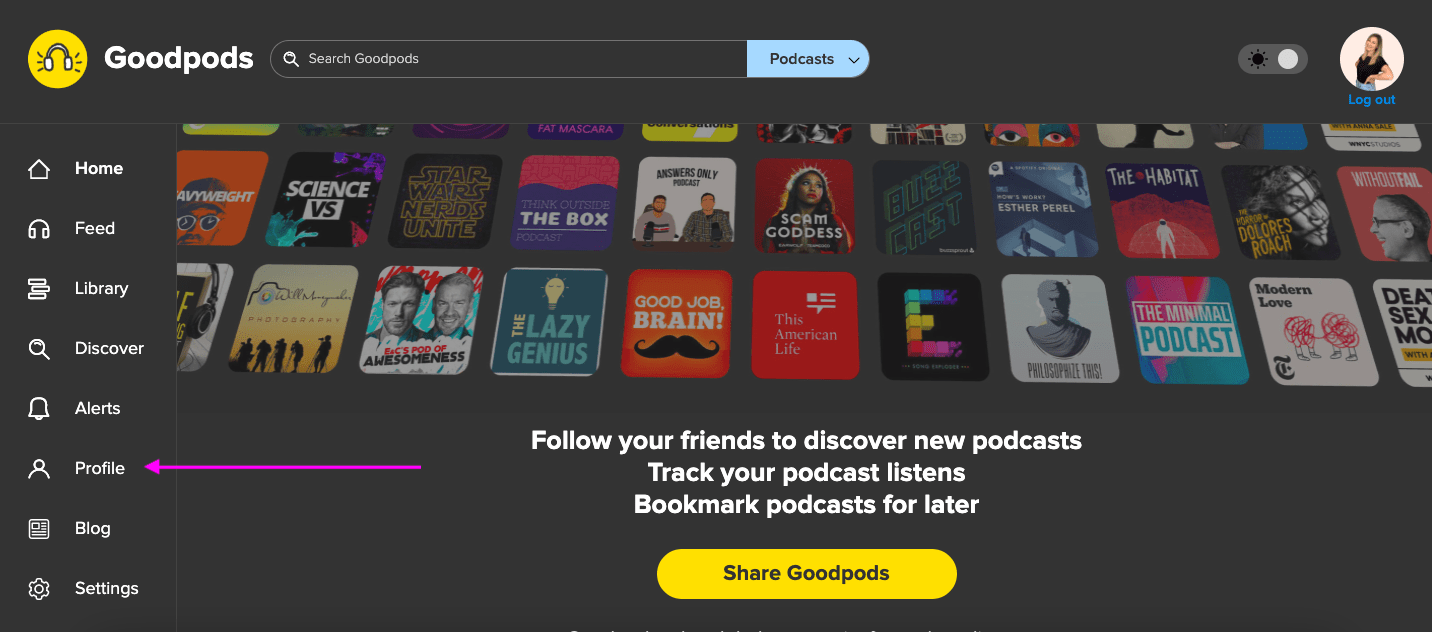 In your profile, click 'Lists.'
Next, select '+ Create a new list.'
Write out what your list is the best episodes for. Bear in mind that what you write in here needs to make sense with 'The best podcasts for…' in front of it, so don't re-write that bit!
Think of a title that is compelling, yet specific, such as:
building a business
newbie gardeners
board game enthusiasts
Next (and this is the genius of Goodpods.com in my opinion!) select which of your shows (if you have more than 1) that you want to feature at the top of your list.
That's right; when you publish your list, your podcast will appear at the top! It's like free advertising! Cool, huh? Once selected your podcast, fill out the questions giving as much detail as you can.
Select the category or categories your list best fits into. Really think about this so that your audience has a better chance of finding and listening to your list.
After you've selected your categories, fill out the information about the podcasts you picked and why. This information will help potential listeners understand why they need to listen to your list over someone else's.
Now you're ready to enter 5 podcasts onto your list! And there's no need to include your own show since it's featured already anyway.
Search for your show or an episode of a podcast and once selected (see next step to do this) enter an explanation as to why you picked this particular podcast.
To select a podcast, start typing in the search bar. Select the search result that appears.
From the search results, select either the show or episode that you want to appear on your list.
Keep repeating these steps until you have 5 podcasts on your list, complete with explanations as to why the person reading your list should listen to these podcasts/episodes.
Once finished, select 'Publish' for your list to go live. Alternatively, you can click 'Save as Draft' and complete and publish your list later.
Once you're done, Goodpods.com has features for you to be able to share your list on social media and with a URL. So get sharing and let new listeners discover your podcast, plus other awesome ones that you recommend via your list!
Oh, and you don't need to stop there. You can create as many lists as you like with your podcast featuring at the top! Just make sure that they're good-quality lists. No one wants to feel conned into listening to something just because you wanted your show at the top of a list.
Conclusion
In conclusion, Goodpods.com is an excellent resource for podcasters who want to grow their podcast audience and listeners. It's free, easy to use, and has a lot of potential in terms of helping your listenership grow and grow.
Check out our lists and let us know what you think!
Do you use Goodpods.com? What are your thoughts? Let us know in the comments!