SummarAIze is just one of the many AI tools on the market that claims to provide you with 10x the sharable content for your podcast in just 10 minutes.
But, with so many new tools on the market, it can be tricky knowing which ones to give your money to, and which to steer clear of. SummarAIze is a tool that I've been using for a fair few months now and I can honestly say that I find it super helpful when it comes to creating content to promote my podcast episodes.
So in this post, I wanted to give you a full review of the platform to help you decide if it can help you with your podcast workflow too.
What is SummarAIze?
SummarAIze is an AI-powered tool designed specifically for podcasters and content creators. It is relatively new in the world of podcast AI tools and was designed for podcast creators, content marketers, and anyone else who produces long-form content in audio or video form.
The whole point of the tool is to help content creators reduce the amount of time creating promotional content for their podcast episodes/webinars, etc., giving you more time to do what you do best; create amazing content.
In a nutshell, SummarAIze repurposes your content from audio and video into engaging, shareable social posts, email content, summaries, quotes, and more!
Depending on the length of your episodes will depend on how much content you get back. But, SummarAIze estimates that for an average 30-60 minute podcast episode, it will be able to generate approximately:
6-12 short posts (these work great as show notes)
6-12 quotes (either smart quotes or exact quotes)
Questions and answers
6-12 LinkedIn posts (which I often repurpose for Instagram too!)
Email content
6-12 Twitter threads (you can repurpose for Threads!)
and a lot more, including YouTube content and timestamps
Plus you get a transcript with speaker names assigned with every run!
Pros on SummarAIze
Generating content to promote your podcast episodes is hard.
There, I said it.
And a lot of podcasters will tell you that you should spend 20% of your time creating content for your podcast and a massive 80% of your time promoting that content.
That's a lot of promo material for each podcast episode!
And if you're anything like me, promotion and marketing are not your strengths.
So, this is where a tool like SummarAIze comes in because it will help lay the foundations of content for promoting each of your podcast episodes. In fact, for each podcast episode that I run through SummarAIze, I end up with AT LEAST a week's worth of content to promote each episode.
Apart from the amount of content, here are my other top pros for using SummarAIze.
File format support
One of the top features for me is the various file formats that SummarAIze supports. These include:
MP3
WAV
M4A
MP4
M4V
YouTube videos
YouTube links
This means you can easily upload your podcast episodes, and YouTube videos pretty much regardless of where you recorded or the episode output format.
In my experience, this is one of the widest varieties of file formats that are supported in a podcast upload capacity for transcription and AI-generated content.
I also love that SummarAIze isn't just limited to audio-based content. So, if you also put content on YouTube, then you can generate sharable content using YouTube links as well. SummarAIze provides assets for YouTube videos, including timestamps and relevant keywords. This will enable you to optimise your videos for search engines and attract more viewers.
Social media content
I'm a firm believer that you do not need to be everywhere on social media to have a successful podcast. But, it can also be challenging to come up with social media content ideas that meaningfully promote your episode.
This is why I love the question and answer, and the social posts that SummarAIze generates.
You might be thinking that you don't use LinkedIn and Twitter, but the LinkedIn posts and Twitter threads content can easily be used on other platforms such as Instagram and Threads.
As with any AI-generated content, just make sure that the content sounds like you and includes any relevant links before you post to your social media platforms.
Blog posts
I often think that the more content you can get out there to promote your podcast episodes, the better.
And one of my favourite repurposing strategies is to have a blog post of your podcast episode and have your podcast episode embedded within that post for people to check out (case and point with this post!). It's a great way to boost the discoverability of your show using SEO and being discovered by new listeners.
SummarAIze will give you the basis of a blog post to use to help promote your podcast episode. I say basis because I firmly believe that you should always review AI-generated content before publishing it.
Why?
Well because you want to check for accuracies, spelling mistakes, and also that the tone of the post fits both you and your brand. I hate to say it, but it is VERY obvious when someone has just copied and pasted AI-generated content straight into the blog without reviewing it.
Overview of all content generated and how I use it
Below is a full list of all of the content that SummarAIze will generate for the audio or video that you upload. I've also included how I use the generated content to promote my podcast episodes:
Main Content: headlines, Q&A, and more
I use this section of content to generate show notes for my podcast. I'll also use the YouTube assets to create show notes that use keywords to help with podcast SEO. This content is then included on my website where I have a webpage per episode published.
Twitter Threads: threads most likely to go viral
I'm an avid Twitter user and I regularly use the content generated here as a basis for Twitter threads. If you don't use Twitter, this content can easily be used on Threads instead.
LinkedIn Posts: posts designed for engagement
I like to upload a couple of the LinkedIn posts throughout the week that an episode is released with a Magic Clip created using Riverside.fm. If you don't use LinkedIn, or use Instagram and LinkedIn, I post the same text that I used for a LinkedIn post as an Instagram caption. If you're doing this, just remember that on LinkedIn you can include direct links whereas on Instagram you'll need to direct readers to the link in your bio to listen to your episode.
YouTube: Assets for YouTube
As someone who's relatively new to YouTube, I am still getting to grips with YouTube assets and YouTube SEO.
I therefore find this section super useful for creating a description and video title. I also love the timestamps that are included for me to add straight into my YouTube descriptions.
Blog: a blog post based on your content
I use the blog post either to start a blog post based on the episode, or I use the How To or Checklist blog post option to create a different piece of content for the episode if I already have a blog post covering that episode.
When doing this, I always make sure that readers of my blog get as much value as possible out of the posts. It's therefore really important to ensure that regular readers don't feel like they're just getting repetitive posts, hence why I'll use a different format to cover the same topic.
Side note: The blog content can also be repurposed and used for LinkedIn articles too!
Titles and highlights: easily shareable
Titles are a really useful way of creating a title for YouTube that differs from the podcast title. Especially if I want to see which title gains more traction.
Equally, some podcast hosting platforms and directories include a secondary title or a one-line summary of your episode. The titles from SummarAIze are good for this as well.
Highlights can be a great addition to podcast show notes. As someone who doesn't like big blocks or text and likes to skim-read blurbs, I'll often look for a bullet point list in podcast show notes for a quick episode run down.
Being able to use the highlights in this way means that my podcast show notes cater to people like me who like to skim-read bullet points rather than read a long paragraph of text.
Email content: promo emails and newsletters
I will confess that I suck at email content. It is one of my biggest letdowns I feel.
So, being given content that I can use to promote my latest episode to my email list via a newsletter is ridiculously helpful.
Transcript: line by line with names
I've spoken before about how useful transcripts are for SEO purposes. Whilst I don't do it right now, I'm currently working on inputting transcripts into the back catalogue of the podcast.
SummarAIze pricing
What I love about SummarAIze's pricing plans is that the creators clearly understand that different podcasters have different requirements. And because of this, they have two different pricing models: Pay-as-you-go and Subscription.
Pay-as-you-go isn't a model that I often see for online tools, and I like that SummarAIze give you this option if you just want to repurpose a one-off webinar, or you do shorter episodes where you won't need as many minutes as the Subscription model offers.
(On that note, if you don't use all of your minutes at once, SummarAIze just rolls them over – another feature I love!)
That's why they offer flexible pricing options to meet your needs. You can start for free and take advantage of 60 minutes worth of upload time. If you need more time, then you choose between the Pay-as-you-go and subscription plans.
The pay-as-you-go plan costs $7.50 per 30 minutes, while the subscription plan is priced at $5 per 30 minutes with a minimum of 120 minutes per month. Best of all, there are no contracts, and you can cancel anytime. In comparison to a similar platform such as Capsho, SummarAIze is a lot more affordable.
Both plans give you the same content output, it just depends on your budget and how many minutes worth of content you want to upload.
How to generate sharable content using SummarAIze
So far in this post, we've covered quite a bit. We've looked at what SummarAIze has to offer podcasters, pricing, and how I use it in my workflow.
Now we will go through how you can use SummarAIze to generate shareable content for your own podcast.
First, go to SummarAIze.com and either log in or create an account.
On the Dashboard, click 'Upload' to upload your podcast audio/video.
You can upload a whole variety of audio/video forms, including:
MP3
WAV
M4A
MP4
MOV
M4V
YouTube videos
YouTube links
Toggle the type of file that your upload is (Audio/Video or a YouTube link) and then drop the file or YouTube URL into the box below.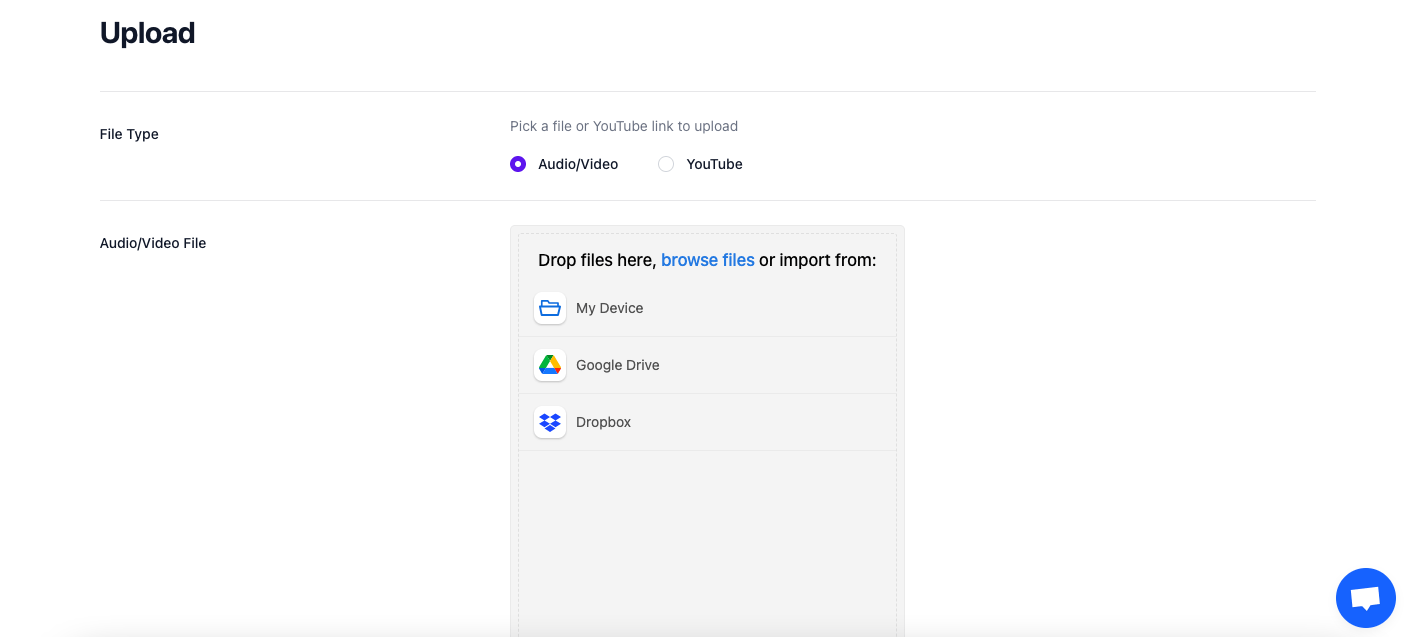 Host and guest information
Whilst your file is uploading, you can move on to the next stage and start filling out the host and guest information on the form.
SummarAIze will use this information when generating your podcast's transcript and also when creating sharable content for you. Try and put in as much detail as you can as this will help SummarAIze generate the best content for you.
Quote generation
Next, you'll be able to select the type of quote that you want SummarAIze to generate.
With SummarAIze you can opt to have smart quotes of exact quotes generated for you.
Smart quotes paraphrase a part of a conversation so as to create a quote that's sharable. Essentially, it changes the wording of what you said slightly but doesn't take away from the essence and message of what you said. Smart quotes are preferable because the language works better for sharing on social media etc.
Exact quotes are pretty much a quote of exactly what you said. Exact quotes aren't always recommended as they can appear a little out of context or necessarily long.
You can also include 'Custom Vocabulary.' These are words that often get misspelt or transcribed incorrectly. Having used Riverside.fm, Otter.ai, and Descript for transcription, this isn't a feature that I've seen before, but definitely something that I like.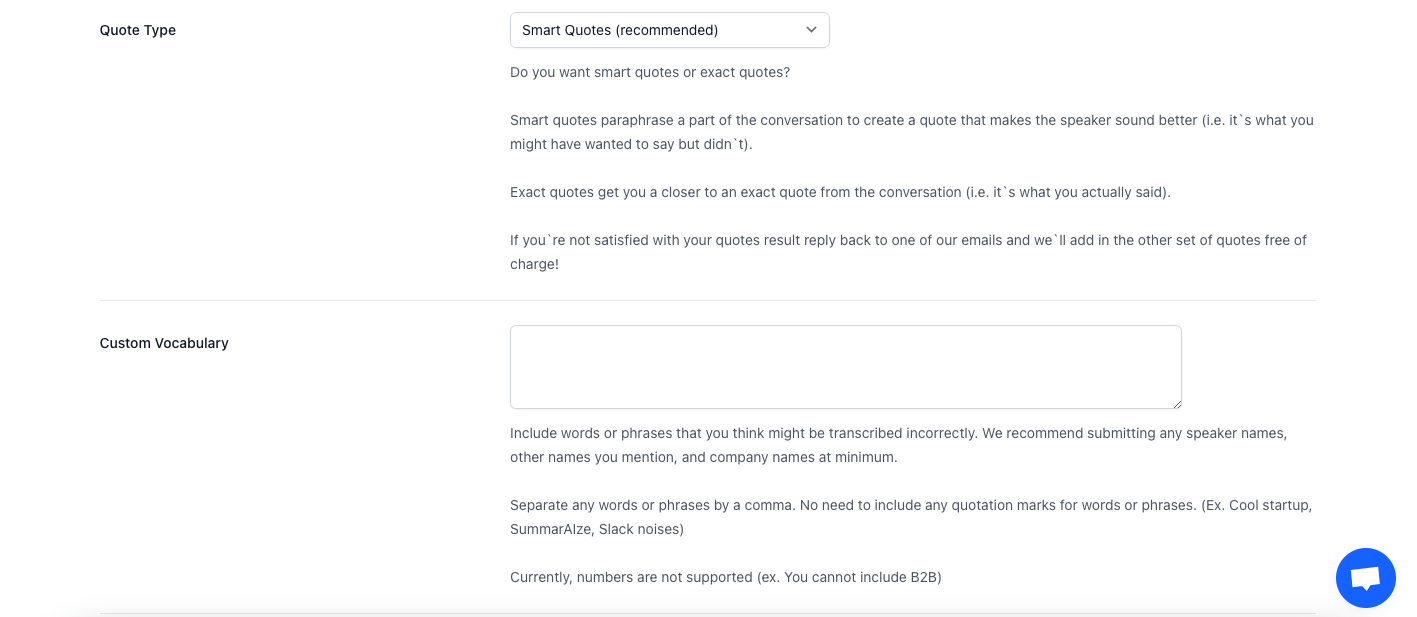 Blog post type
Finally, you can select the blog type that you'd like SummarAIze to create for you.
SummarAIze can create different blog post types, including a standard blog post, a How To, or a checklist.
I really like this feature, mainly because I tend to write my podcast episodes as blog posts before I record them. For me, I then don't need another blog post. But, by selecting the How To or Checklist option, I can create content for a different type of blog post, a free download, content to include in an email blast…
You get the point; I can create a different type of content from the How To guide or Checklist option.
But, if you're not like me and prefer to create podcast episodes first, the 'Standard Blog Type; will probably work best for you as you'll be able to easily repurpose your podcast episode into a readable blog post. Think of the SEO opportunities!
Lastly, you can tell SummarAIze anything you want about your target audience. Keep it short and sweet. But by including some keywords, SummarAIze can make sure that the content it generates is aimed more specifically at your audience.
Hit 'Submit,' and within 10 minutes you'll have a whole host of content at your fingertips. Just click the episode on your Dashboard to access the generated content.
Access your AI-generated content
Use the menu on the left of the screen to read through the content generated for you.
Like all AI content, remember that this is just a starting point. You'll need to go through and check for accuracy and personalise the content so that it sounds like you and your brand.
Conclusion
At the time of writing, I've now been using SummarAIze for several months. And, I can confidently say that it is a true game-changer.
Not only does it save me time and effort by generating valuable content, but it also does so in an affordable manner.
With SummarAIze, I no longer find myself struggling to come up with engaging show notes, episode descriptions, or promotional emails. The tool's AI capabilities provide me with awesome content that has significantly sped up my podcasting workflow.
But, don't just take my word for it; try SummarAIze today and get 60 minutes of upload time for free >>